Kumara planting and knowledge shared
25 September 2017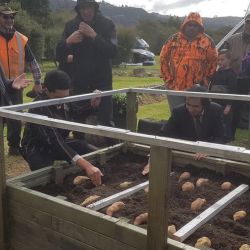 Community members came together last week for a special planting of kumara.

The planting ceremony of about 80 kumara, with different varieties, took place at Ohinemutu.

Kai Rotorua, formerly known as the Rotorua Local Food Network, are teaming up with Ka Pai Kai, Healthy Families, Rotorua Lakes Council and Toi Te Ora Public Health to grow kumara for a social enterprise.

Steve Chadwick and kaumatua were present for the planting, along with community members and some students from Rotorua Boys High School.

Te Rangikaheke Kiripatea, volunteer facilitator for Kai Rotorua, says a group went on a hikoi up north beforehand to fill some gaps in their knowledge based around kumara.

They were able to bring back new knowledge of growing and storing kumara, he says.

"What we want to do is get people growing these everywhere."

They are going to trial eight varieties which they have not tried before, and have been given acre of land in Tikitere.

"We are stepping up this year and taking to another level the growing of kumara."

Te Rangikaheke says kumara is a life-line brought here years ago by their ancestors.

"The long-term plan is to restore the kumara to its rightful place. It fed all of Te Arawa for a long time."

Healthy Families Rotorua manager Mapihi Raharuhi says they were pleased to be there for the planting ceremony.

She says for Healthy Families this is about making traditional practices become the norm towards a healthier Rotorua, and it is cool that Maori are leading the way.

Rotorua mayor Steve Chadwick spoke at the planting ceremony, saying this is a wonderful journey and thanking them for the work done after their hikoi.

"I think it's very important for us to be a part of this today. Community movement only happens when people with a passion get behind a wonderful idea and a vision.

"We only grow a community when we all work together and it's lovely looking around here seeing you all today."

- Bay of Plenty Times