Push To Improve Maori Health
13 April 2016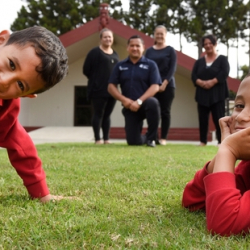 A new partnership between Ngati Ranginui iwi and the Western Bay of Plenty Primary Health Organisation is set to tackle Maori health issues head on. The Mauri Ora Project, which was signed last Friday, aimed to address health issues identified by hapu and marae groups.

Mauri Ora project manager Charlie Rahiri said the partnership would be about recognising health deprivation and how the iwi could take a role in helping alleviate the issues. "It's about achieving positive health and increase health literacy," Mr Rahiri said.
Mr Rahiri said the project came from a desire from the marae to tackle health issues.
"It's the legacy, what do we want to leave our kids?" The project would focus on health issues that had affected Maori at higher rates.

Mr Rahiri said a lot of the programmes directed at Maori were not helping to improve health. "It's a new approach for us. This time we're running it," he said.

Steph O'Sullivan, chief executive of Ngati Ranginui Iwi Society, said the aim was to increase health engagement and involvement with Maori in the area. The project would entail promoting healthy eating and lifestyles, through plans such as the establishment and upkeep of gardens on maraes and activities such as fun runs up Mauao, to "confidently engage" Western Bay of Plenty Maori.

"We are wanting pathways for healthy lives for our people," Ms O'Sullivan said.