The ancient Māori healing system that is making waves
19 January 2020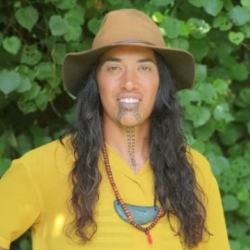 Davina Thompson (R) orders her time according to the maramataka, by using the phases of the moon, stars and planets, traditional knowledge, her own observations and scientific data to synchronise her everyday life with nature.
An ancient system that aligns daily activities with the natural world, moon, sun, stars and planets could help improve Māori health inequities. Carmen Parahi explores how maramataka is being revived across Aotearoa, and why the Ministry of Health is helping pay for it.
When Davina Thompson was a child, she grew up learning how to gather kai from the land and sea, trap eels and fish in Matatā near Whakatāne. These practices were handed down through generations and are being continued by her whānau.
Since 2013, Thompson has applied what she learned from her grandmother and father at Matatā into an ancient Polynesian system called the maramataka. It's known by other names throughout the Pacific.
Thompson orders her time according to the maramataka, its many phases and natural indicators, the moon, sun, stars and planets, traditional knowledge, her own observations and scientific data to synchronise her everyday life with nature.
She knows there will be critics of the system but said it is applied knowledge, similar to science. She poses a hypothesis and tests it.
"They think it's hocus pocus," said Thompson. "This is how we survived, adapted and became resilient as a people. We adapted to the environment."
TEMPLATE FOR SURVIVAL
The maramataka is a complex system traditionally used for sourcing food and fresh water.
"It's the template for survival," said maramataka expert Rereata Makiha.
"If you understand the maramataka you'll understand how to move with the changes in the environment. If you understand that you can live. You can survive anywhere."
The maramataka came to Aotearoa with the first Polynesian migrants who arrived 800 to 1000 years ago. The first people would later become the indigenous Māori.
By the time of the first Europeans arrived, every tribal group had developed its own unique maramataka based on the environment they lived in. But its use diminished with the introduction of Western systems through colonisation.
Maramataka synchronised the daily activities of people with the natural world (taiao), moon, sun, stars and planets. Nature was personified into different levels of deities (atua) and they were connected to humans through genealogy (whakapapa). This kinship instilled a sense of respect or reverence for nature. It created a duty of guardianship (kaitiakitanga) so food sources were sustainably managed.
In recent times the maramataka has been called the Māori calendar. It noted generic Māori lunar names but incorrectly applied it to the Gregorian calendar, said Thompson.
It's not a calendar, she said. Maramataka uses cycles and phases instead of counting days, weeks and months. Thompson only uses the western calendar out of necessity. "It's the way it is. We've all got to pay our bills, live by the Gregorian calendar to get to work."
Particular natural indicators or signs (tohu) have to be present to determine each phase.
There are many maramataka with varying names specific to different tribal groups and the environments they live in. Its use is widespread across the Pacific.
Makiha said there are hundreds of tohu to be aware of including the different meanings of bird sounds, behaviour of insects, and weather patterns. In Hawaii, he said, when certain crabs come to the surface it's a warning of a volcanic eruption or earthquake.
Makiha cautions the use of the maramataka if people don't connect with the environment. He said it's important to retain the whakapapa links to nature through the atua.
"A lot of people are using it without tuning in properly. If you look at winds our tupuna (ancestors) had over 750 names for different winds, 200 names for different types of rain, 300 names for snow."
Traditionally, it was the experts or tōhunga who knew the many names of nature. The rest of the population knew the basic maramataka principles and common atua.
Thompson said it's not only Māori and other Pacific cultures who are learning the maramataka, others are interested too.
"They're pretty attuned to Papatūānuku. It's not exclusive," she said. "It just makes life better."
A SOLUTION FOR INEQUITY
The Ministry of Health agrees. It's backing the use of maramataka through its Healthy Families initiative to help them deal with health inequities particularly for Māori.
In a written statement, the ministry said, "We encourage its use by local providers who, in partnership with communities, are reviving this traditional practice."
Since 2014, Healthy Families has operated in 10 centres across the country at an approximate cost of $9 million a year.
The ministry defended its funding of Healthy Families, which will continue until June 2022. It said the initiative aligns with international best practice.
Each site works with communities struggling with preventable chronic diseases and poverty by finding innovative long-term solutions to improve nutrition, increase physical activity, decrease smoking and reduce alcohol-related harm.
"The work of Healthy Families NZ is part of the growing movement to place indigenous knowledge and practices on an equal level with western epistemologies," said the ministry.
But Makiha is concerned about the maramataka going mainstream and being applied to health systems without careful consideration. "What they don't do is they don't tune into the environment and don't see how it's always shifting," he said.
Makiha believes maramataka should go through kura Māori (schools), marae and Māori communities first.
"I don't want in 100 years from now to come back and to listen to a German professor teaching our mokopuna (descendants) the maramataka," said Makiha. "It's the danger of letting it go out, their version of it.
"They're taking that knowledge base out of its comfort zone and putting it under a Pākēhā lens. Why the hell would we want to put our mātauranga (knowledge) under that lens for? Bloody crazy."
The ministry has commissioned two evaluation reports since the initiative began. The last report released in November 2018 found its strong Māori worldview encouraged greater Māori participation, legitimises community perspectives of health and found some evidence of long-term prevention.
It recommended the ministry continue the initiative by prioritising and resourcing Māori-led solutions and participation.
"This is a recommendation we fully support," said the ministry. "The approach of Healthy Families NZ recognises that innovative practice (that is embedded in cultural knowledge and concepts of well being) is required to achieve health equity, particularly for Māori."
INDIGENOUS RENAISSANCE
Healthy Families Rotorua Manager Mapihi Raharuhi said the initiative is working and worth the millions being spent on it.
"It certainly is value for money, bang for buck," said Raharuhi. "We have statistics and evidence telling us there is certainly a small shift happening."
In 2017, the organisation decided to use maramataka to help reduce risk factors like obesity, smoking and alcohol to prevent chronic illness such as diabetes and heart disease.
The team began promoting its use and encouraging people to return to a healthy lifestyle by using a maramataka developed specifically for Te Arawa tribal groups based in the Bay of Plenty.
"We've influenced over 200 people I believe in Te Arawa to apply maramataka in a series of settings not only growing kai," said Raharuhi.
The use of maramataka has grown to include schools, community groups, whānau, marae and businesses. Its use is also being promoted by other Healthy Families organisations.
In Rotorua, Te Rangihakahaka Centre for Science and Technology is using the maramataka as a planning tool for teachers and students. Te Pākārito, an early childhood centre has normalised the use of maramataka into its everyday operation and learning.
Social enterprise Kai Rotorua, a community garden was set up based on the maramataka supported by Dargaville kūmara experts.
"There's a renaissance of traditional knowledge across the world," said Raharuhi. "It can tell us so much. What I believe in is kaupapa Māori, Māori systems, Māori thinking."
"If we eat our kai as fresh as we can get it, all the nutrients, minerals, all the goodness in that kai will help our tinana (body) to be well. We can use the maramataka to guide and plan what we do."
Jade Kameta has been teaching his colleagues at Healthy Families how to apply maramataka at work and in their own lives. He said it has changed his life and helped him manage his stress levels.
In Te Arawa maramataka, the orange days are the highest energy, navy blue is high energy, green is moderate, grey is low and light blue, the lowest energy.
"Track those observations and once you've got enough data you can start testing and trialling," said Kameta.
But warns the maramataka is not something that can be learnt overnight.
"Before I learnt maramataka I thought I had a Māori worldview but until I learned maramataka I knew nothing. This knowledge has helped me with my own wellbeing and bring balance to my life."
Kameta is keeping a diary of everything that happens including historical events he has linked to a maramataka timeline. He was not surprised by the Whakaari/White Island eruption.
"It happened on a day called Atuaheihei, where our environments are battling each other. It's a day where our minds are in a battle too," he said.
Kameta said humans are the only living organism out of sync with nature, but the environment still affects us whether we realise it or not.
"Maramataka can definitely help us. It does change the way we think and challenges how we live today. It challenges the whole western paradigm of health and wellbeing," he said.
THE CHALLENGE AHEAD
Thompson, a mother of five, uses the maramataka to understand her own fertility and has helped other women too. She estimated her advice to them has resulted in three babies being born so far.
"I couldn't do any other forms of contraception I used to get horrible side effects," she said. "Rākaunui (the full moon), I knew that was my high fertility day."
She managed the conception of her last three children using the maramataka. Her youngest son, Aramakaraka Te Ora Tangaroa was conceived on Rākaunui and born during the high tide of Tangaroa-ā-mua, a waning moon, she said.
Since his birth in 2018, Thompson has kept a detailed log of her son's daily activities and environmental conditions to establish if there are any observable patterns or links.
"I was able to determine on Rākaunui he would all of a sudden get a burst of learning coordination and things like that," she said.
Thompson was diagnosed with depression about 15 years ago. Since turning to the maramataka, Thompson claims she's been able to manage her depression without prescription drugs.
"I tried to take medication once but I went all koretake (useless)," she said. "I know when I'm going into manic, in Rākaunui. I know my kai has to be more denser, ground me more."
The moon phases aren't the only factors helping Thompson manage her mental health.
The former national touch rugby representative also eats food she grows, gathers or catches with her whānau. She is very active, fit and healthy. She works with the environment and connects with it in her personal time. All aspects of using a maramataka, she said.
Medical studies have proven the benefits of an active lifestyle, eating whole foods and connecting with the environment for mental wellbeing and overall health.
Thompson monitors the many lakes in the Rotorua district for the Te Arawa Lakes Trust. Her job is to apply cultural practices around catfish monitoring and aquatic weed spraying. She is also an environment science researcher with ESR, the Crown research institute.
For her Masters thesis, she is investigating how maramataka can be used as a survival template for climate adaptation and resilience.
"There has been a conscious shift. People are seeking the traditional ways of learning," said Thompson.
"It's time, especially with our climate emergency. We've got to band together to help Papatūānuku (earth) and Ranginui (sky) otherwise we've had it."
Maramataka expert Rereata Makiha (second from right) with Davina Thompson (far left) at Whangaruru beach camp. They were investigating the spawning of the takeke (piper fish) in 2019.
- Stuff