Ukaipō programme helps Māori mum-to-be quit smoking
23 November 2017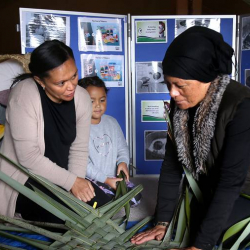 Tauranga mums and mums-to-be are trying to reduce their smoking habits while creating a special gift for their unborn baby.

The Ukaipō programme was created to combat the high percentage of Māori women who smoked while pregnant by providing useful information and the incentive of weaving a wahakura (traditional Māori woven flax basket).

The programme was held at Wairoa Marae in Bethlehem this week and ran over four days which covered a range of topics such as the history of smoking, effects smoking had on unborn babies, CO2 testing for mums-to-be as well as information about flax gathering and tikanga (customs).

According to statistics from Smokefree NZ, 34 per cent of Māori pregnant women are more likely to be smokers.

Also, smoking during pregnancy was the leading cause of Sudden Unexpected Death in Infancy (SUDI) and accounts for 86 per cent of SUDI cases between 2006 and 2010.

About 20 women had been involved in the programme since the idea was created a year ago and this was the fifth time the workshop had run in Tauranga.

Tumanako Mcleod from the Māori Women's Welfare League attended the programme as she said it could also be a preventative measure for women in case they did want to become pregnant in the future and wanted to address their issues around smoking.

The mother-of-five said as a smoker she wanted to educate herself and reduce her smoking habits to ensure her children grew up smokefree.

"History tells us that if mum is a smoker, it's more likely her daughter will be a smoker too... I definitely don't want my daughters smoking," she said.

Mcleod said she weaved a wahakura as she was not sure if she had completed her family just yet and was working towards becoming smokefree.

Facilitator of Ukaipō, Tiana Bennett, said the programme had evolved and changed since the idea first started after feedback from attendees.

Bennett said the programme had been successful and 90 per cent of mums who had attended had made "significant changes in reducing their smoking".

Bay of Plenty DHB midwife, safe infant sleep and smoke cessation co-ordinator Natasha Rawiri said the programme was focused on including the whole whanau to support the pregnant woman.

"If we don't have whanau we don't have anything."

Rawiri said the programme used different ways to communicate the effects of smoking such as the amount of money that could be used in better ways.

She said she would take the equivalent of a packet of cigarettes (about $25) and buy a bag of food to show the mums what their money could be spent on.

Rawiri said the biggest reward was telling women that "their smoke-free hands had weaved that wahakura".
- Bay of Plenty Times